What Location to Choose When Looking for a New Office Space?
What location to choose when looking for a new office space? This is the question often being asked when we received an enquiry for office space search. Multi-national companies (MNC) usually have some better ideas of what they require in term of office space selection and they can usually zoom in quickly into the available buildings in the desired area. Meanwhile we often see the smaller companies or SMEs undecided on the locations and need to be presented with larger radius of radar before they shortlist the area(s) to focus in.
The commercial office space market in Klang Valley is mainly divided into a few major Central Business District (CBD) in Kuala Lumpur and Petaling Jaya (e.g. KLCC area, KL Sentral, Mid Valley, PJ City Centre) and some suburban local commercial areas (Subang, Puchong, Klang etc.).
When it comes to location selections, obviously different business will have different requirements and is suitable to different locations. Hereby we are going to discuss the FIVE key factors that are most important in the location selection: -
Location of Clients/Customers
The No. 1 consideration when one chooses their business address shall be the location of their clients and customers. Why is this so important? Do you want to stay near to your girlfriend's house or let her other admirer(s) stay at her next door?
This location factor is most important for businesses such as sales & service centers, which will need central location(s) that is(are) willing to be accessed by customers from all corners of Klang Valley. This is also almost equally important for sales and marketing office, and the locations need to be near their customer base.
The rule of thumb is to locate your business as near client's office as possible – if there is an anchor client or a group of major client office located in the same area (banking software developer need to near banking district etc.). The business owners will eventually find that any extra expenses to locate in the prime areas, if any, paid off by the extra business generated from the opportunities created to visit and carry out networking activities with your clients.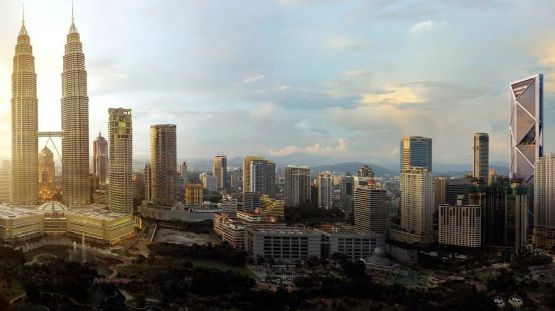 Location of Employees
For a relocating business or company, existing employees' home locations are also another important factor especially if the company has a large nos. of employees. Some companies lose staffs when relocating their office and have to do quite some new recruitment to make up the headcount losses. However, the recruitment normally should not be more difficult if the relocation is to move to a more central location.
Of course the employer has to balance the importance between the retention and recruitment factor, and it will be an easier decision if the relocation is to accommodate for a major expansion that will be followed by intensive recruitment plan.
This problem can be minimize by being transparent about the relocation plan, and doing a simple survey among the key staffs before the selected location is being finalized.
Public Transport and Road Accessibility
Public transport will widely increase the accessibility of the employees to commute to work daily. As many are aware, LRT is the most convenient public transport in Klang Valley at the moment due to the best reliability (although there are still complaints on its sporadic breakdowns during peak hours) and a reasonable wide coverage of the population without train interchange (covering both KL & PJ with extensions coming soon).
If the staffs or management members need to travel overseas frequently, the accessibility to airport will be a key consideration, and that is one of the main reasons KL Sentral has attracted many major MNCs to relocate their regional office there.
Proximity to Amenities and Conveniences
For company with frequent visitors from overseas, hotel(s) nearby will be a much value-added amenities. Company located in KLCC, KL Sentral & Mid Valley area will not have any issue on the hospitality availability while this can be an issue for most of the other areas.
Nowadays companies are also looking at factors such as F&B choices availability, banking facilities and conveniences. For the same reason integrated development with shopping mall had become a popular choice.
Right Image for your Business
Some international companies need to be located in an area or in a building that can be recognized internationally, such as KLCC area, KL Sentral etc. Service providers with international clients also are very cautious on the address or road name carried by their business cards.
For small service providers or consultants, the business address becomes one of the first item to present their business image during first meet up with clients. For small business, one of the most cost-saving and effective way to have a prestigious address is to take up a virtual office package in prime office buildings.
Note that the factors discussed above are only those will affect the selection of business location, and there are other factors to be considered when we zoom in the building selections.
Feeling too complicated? Call us for a customized solution at +6014-6262 623 or drop us an email!
Authored by:
Ho Chin Kun
Huttons Oneworld Sdn Bhd
© All Rights Reserved 2014