Top 10 most inspiring offices in Malaysia
(1) 85 Tranquerah, Malacca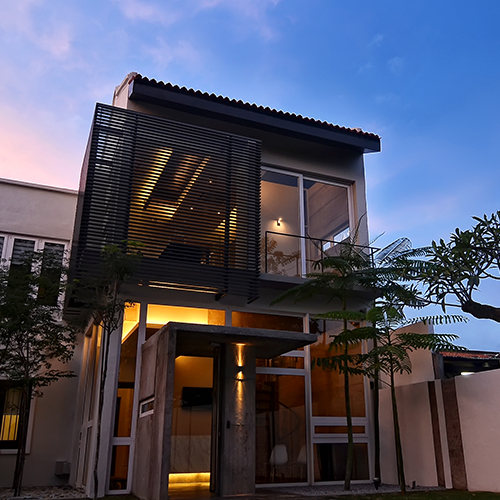 85 TRANQUERAH, located in the designated Unesco site in historic Malacca, has been transformed by way of conservation and adaptive reuse. Representative of the quaint double-use shophouse with commercial activities conducted on the ground floor while the upper floor housed the residential quarters, old is intrinsically gold as far as the front architectural facade is concern – retained in all its former glory.
Step inside to see the transformation of the middle portion into workspaces.
Surprises abound in the back area with its back once facing the sea – now transformed into a totally unexpected sleek facade complete with full length glass windows and a steel metal screen.
PCL Architect founder Lim Pay Chye celebrates the "continuation of the past". Working with Idea Workshop Sdn Bhd design director Hau Woon San, both Malaccans pay tribute to venacular wisdom – interpreting the space so that the back portion becomes the new front.
"We revisited and reinterpreted the spirit of the past, making it relevant and new to today," reiterated Hau.
(2) The PLOT, Kuala Lumpur
THE PLOT is a green transformational, modern office complemented by an indoor courtyard and outdoor gardens that has won various design awards. Towering four-and-a-half storey high, this once-residential unit has been turned into an 11,000sq ft office space that seamlessly blends work-and-play.
"The office has lots of cross ventilation features and sunlight," said PDI Design and Associates' Tan Su Cheng.
"The design scheme ensures every single door and window has a great view. It's an intelligent design with low maintenance cost," he added.
Famous quotes are peppered throughout the space which serve to inspire creativity and motivate its employees to strive to give their creative design best. "We designed the place using a lot of rustic materials, granolithic and recycled parquet flooring. There are two pods in the garden reminiscent of tree houses which also act as transitional areas for holding the office's many parties."
(3) MindValley, Kuala Lumpur
MINDVALLEY is a multiple award-winning office which occupies two levels at Menara UOA in Bangsar, Kuala Lumpur.
Envisioned as a breeding ground for eureka moments, the 5,095sq ft and 6,940sq ft offices respectively thrive on the versatile working scenarios ranging from private nooks, meeting rooms, bar settings and bean-bag areas.
"The idea is to cultivate a spirited intellectual atmosphere wherein international participants from all walks of life can come together and share their thoughts," said PDI Design and Associates senior designer Ian Lee.
Reinforced by a series of smaller, strategically situated multipurpose areas, this whimsical office exists around two key zones: a monochromatically inclined workspace conducive to hot-desking where kidney-shaped workstations visually complement a suspended lighting fixture, and a beanbag-strewn, 150-capacity auditorium accompanied by its own superhero-themed café.
A vibrant hangout spot for staff, the workspace is home to oversized digital murals by British illustrator Liam Brazier and splashy red seats that pay tribute to Mindvalley's official mascot, Wonder Woman.
(4) Steelcase, Kuala Lumpur
STEELCASE Asia Pacific's global business centre Kuala Lumpur, has made a name for itself as the first LEED (Leadership in Energy and Environmental Design) certified Commercial Interior (Silver) office in Malaysia spanning a built-up of 30,000sq ft on levels 26 and 27. The leading office furniture company prioritises solutions for the environment. "Our office is designed for human interactions," said managing director Barbara Reimbold.
"The space fosters social integration with collaborative zones throughout for big or small meetings – in spaces that inspire people," concurred Asia Pacific director of Sales Resource Network (SRN) Andrew Low.
(5) Ocision and Magnet Bizz, Kuala Lumpur
OCISION and Magnet Bizz are subsidiaries of Star Publications (M) Bhd, co-existing within the same space on the same level of the Menara Star office building in Petaling Jaya.
Designed for two separate groups of people with different needs, Ocision has flexible workstations including a picturesque tree house suspended in the middle of the workspace for quiet chats.
The Magnet Bizz area on the right features more conventional work station clusters.
A skip away from the work areas is a chillout outpost with bean bags, TV and hammock.
"Using slight differences in design approach and outcome, we created a work environment that allows staff alternatives to the 'desk' area for working," commented FSHDesign Group partner and design director Max Barcham on the 3,600sq ft workspace.
(6) Tujuan Gemilang office, Kuala Lumpur
TUJUAN GEMILANG's office at the PJ Trade Centre in Damansara Perdana, Petaling Jaya, has all the hallmarks of a green office complete with an outside edge forming a private garden of about 700sq ft with trees that soothe the soul. "The inspiring thing about our office is the strong connection to nature. The private garden faces east.
"And, the west side faces the courtyard of the building, where we see the tops of hundreds of forest trees, and the occasional bird and butterfly. The sales display is at the front while the conference room is right in the heart of the office with a built-up of 5,750sq ft," said Tujuan Gemilang executive director Peter Chan.
(7) Genovasi office, Kuala Lumpur
GENOVASI, the only Design Thinking School in Malaysia is situated in the industrial enclave of Petaling Jaya. All of its 20,000sq ft workspace cum training area is fully utilised to maximise productivity and encourage creativity and most of the seats are high bar stools to ensure one is at full alert even when sitting.
Designed to empower participants on its programme, a huge blackboard of sorts allows one to leave messages while a merry-go-round adds an air of camaraderie to the space. "The Genovasi office is nicknamed the 'Aquarium' because of its glass walls," said Genovasi chief inspiration officer or CEO Carol Wong.
Pendant lights add a touch of gaiety to the dining area while the library area is astrewn with beanbags and colourful sofas complemented by coffee tables crafted from wooden palette on wheels.
A cafeteria area beckons with a pantry area while unlimited drinks and snacks keep hunger pangs at bay. Lockers for the students are available and colourful chairs and other modular furtniture pepper the area. And, there is even a futsal court complete with mobile goal posts for warm-up exercises!
(8) Leaderonomics, Kuala Lumpur
LEADERONOMICS is in the business of leadership and fun motivation.
When commissioned to undertake the design of its workspace, FSHDesign Group partner and design director Max Barcham was happy to encapsulate the meaning of "fun" in the workspace by including a swing and designing R&R (rest and relax) spaces.
"Usually, with office interiors, one deals with the issue of numbers but in this case, it was different as we included group "interactive spaces" as represented by the casual "sitting room" areas.
The pillars of growth, relationships, building a future, empowering and giving are represented in the open spaces and colourful designs framing the backdrop of the "urban park" with its exposed red bricks.
(9) Google HQ, Kuala Lumpur
GOOGLE goes tropical in Kuala Lumpur. What's there not to love about Google? A visit to its 10,000sq ft office in KL Sentral's Quill building showcased a workspace laden with sandwiches and other treats so none will ever go hungry here.
Local adaptations emerge in the batik rendered Google signage and meeting rooms named after local delicacies. Truly Googlicious!
(10) Nike sales office, Kuala Lumpur
NIKE SALES (Malaysia) Sdn Bhd needs no introduction, being synonymous with cool sports footwear, apparel and equipment innovations.
Enter the green-rated office tucked in Menara OBYU, Petaling Jaya, (previously called Point 92 which was designed by ZLG Design Sdn Bhd), and voila, you'll feel like running along the vast expanse of space designed like a sports arena – in which the walls are laced with images of its founders and famous athletes.
"We drew inspiration from sports stadiums. The high ceilings add volume to an industrial-looking space," said its country marketing manager Robin Kok.
source by:http://www.starproperty.my/index.php/emag/top-10-most-inspiring-offices-in-malaysia/